Whenever you choose to purchase any products from the Strikalite product range you must first add it to your shopping cart. The shopping cart metaphor is used throughout the web for e-commerce applications and works in a similar way to a shopping trolley/cart that you would use in any supermarket. See the "How to .. .. buy products" section for detailed information on purchaseing on this site. You may add or remove items from the cart before proceeding to the checkout to purchase them.
When you have found the product that you wish to purchase you add it to your cart in a quantity specified in the quantity box. This will automatically send you to the

view cart screen.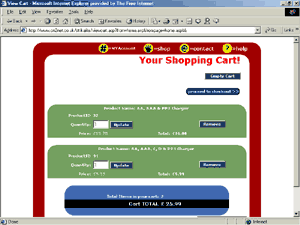 Once on this screen you have a number of options available to the products that you have chosen to buy. These include - changing the amount of any items you wish to purchase, removing an item and emptying the cart completely.
Changing the amount of an item in your cart: Simply enter the new amount of this item in the quantity box and click the update button. This will alter the number of items you wish to purchase - entering zero will completelyremove this item from your cart in the same way as the remove item button.
To remove an item in your cart: Simply click on the remove item button, or enter a zero in the quantity box and click update.
Emptying the cart: To remove all items from your cart click on the Empty cart button at the top of the screen. You will be prompted to avoid mistakes, click on the OK button and you will now see your empty shopping cart.
At any point you may click on the

continue shopping icon to return to the last product page you were on before viewing the cart.