In order to purchase products from this shop you must first log-in

or if you are not already a member

register for free. Once you have done this you are ready to shop.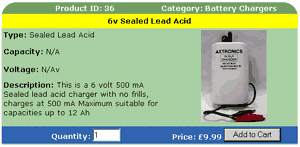 When you have found the product that you wish to buy you will see an button and a quantity box directly underneath it. Type the number of this product you wish to purchase and click on the Add to Cart button. This has now added the product to your shopping cart.
You will now be taken automatically to the

view cart page where you will see all of the items (if any) that you have previously chosen. Please Note: at this point you have not purchased the items, rather, you have placed them in your shopping trolley before proceeding to the checkout. The shopping cart has a number of options including changing the amounts of each product you have chosen to buy, removing products and emptying the entire cart. See the How to .. .. manage your cart section for further information.
You can now either

continue shopping to add further products to your cart or proceed to the checkout. The continue shopping icon will take you back to the product page that you where last on. At any point while viewing the products on offer you can choose to

view your cart this should be clicked if you wish to proceed to the checkout and purchase the items in your cart.
Proceeding to the checkout will take you on to our secure server space - see About .. .. our security for further information regarding the security measures used on this site-.
At this point you will be shown the total order price including shipping information and you will now be prompted to fill out your Credit/Debit card information and asked to confirm the order. Once you have clicked on the button the order will be complete and you will receive an email confirming this. You will also be taken to the order confirmation page showing you a list of the items you have just purchased.
NOTE: Your Credit/Debit Card will not be debited until the order has been despatched!